Worship Times
SUN 11:00 am & 6:00 pm

Classes: SUN 10:00 am WED 7:00 pm
LAST SUNDAY OF EACH MONTH: Luncheon and devotional following morning service with NO evening service.
FIFTH SUNDAY OF THE MONTH: (4 per year) Fellowship meal and congregational meeting with NO evening service.
Address/Phone
514 S 7th Street
Altoona, PA 16602
(814) 942-5921
Upcoming Class Details
SIBI PA - Satellite School
Open to those seeking advanced Bible study for Christian growth. Learn more
Greetings from the Sunset International Bible Institute—PA satellite school!
Classes are on break, will keep you posted for new class. Thank you!
Terry Clyde, Administrator
For more information please call 814-942-5921
NEWS!
First Ladies Day Tea @ Broad Top, PA church of Christ
Sat. April 1, 2017 from 9 a.m. to 12 p.m. The theme is "Developing Spiritual Fitness". Please see Christine if you have questions.
Gospel Mtg. with Bob Payne April 28-30, 2017
Fri. p.m., Sat. 9 a.m. til noon, Sunday regular schedule. Refreshments will be served after the Sat. meeting. Please join us if you can.
church Ministries
Click a ministry below to learn more.
Our Elders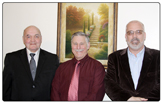 Bud Adams
Jerry Stumpf
Bob Steiner
Locate a church of Christ
the churches of Christ in Pennsylvania
Members Only

This area has the online member directory, mens service schedule and the ministry for our Military. If you would like access to this area let an Elder know.
Needs: Seeking a candidate. Contact Lara or Darla if you have a service member that you would like us to sponsor.
Contact Lara Jester or Darla Mahurin
Schedule at a Glance
We're sorry but, due to lack of interest or of talent, the Annual Talent Show is being postponed.
Sun. March 26 End of Month Fellowship Meal the meal will be held after worship services. Feel free to bring a covered dish, if you'd like. Thank you!